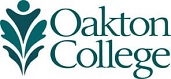 Glenview resident named Oakton male student-athlete of the month
(March 29, 2019) Oakton Community College sophomore men's basketball forward Darius Jones (Glenview, Glenbrook South High School) has been selected the college's male student-athlete of the month for March. The student-athlete of the month is presented nine months during the year to one male and one female student-athlete displaying excellence in the areas of academics, athletics and campus involvement or service.
"I know I'm far from perfect, but this honor means a lot to me," Jones says. "I just constantly try my best and it's nice to be recognized."
This past season for the Oakton Owls, Jones averaged 14.6 points and 9.5 rebounds per game. On the court, he also contributed with 2.4 blocks and 3.0 assists per game. In February, he was selected National Junior College Athletic Association (NJCAA) Region IV Division II player of the week for District 4. Jones also earned postseason honors as a member of the Illinois Skyway Collegiate Conference (ISCC) All-Conference Men's Basketball Team.
He credits Owls head coach Mick Reuter for his hardwood achievements: "Coach really developed me as a player and wanted me to always give maximum effort. I credit him with helping me to reach my highest level of play."
On and off the court, Reuter said he saw steady improvement from Jones.
"In addition to Darius' athletic development, he really has grown as a student and leader," Reuter says. "He stepped up his game and displayed dependability and a work ethic that should be emulated."
Jones, who received a 2.8 GPA last fall, plans on earning an associate degree from Oakton in May. He is striving to continue his basketball career at a four-year college, but also is aiming to follow another passion.
"After basketball nothing gets my attention like business," Jones, who is exploring options after Oakton, explains. "That's a subject that attracts my attention. I want to study business after transferring. I just have to find what area of business I want to concentrate in at the next academic level."
Coming to Oakton was a wise decision, according to Jones, who also balanced his studies and athletics by working part-time at HomeGoods in Morton Grove.
"This college is full of nice people who want to help you," he says. "There's so many teachers who went beyond the classroom to help me succeed."