IT Help Desk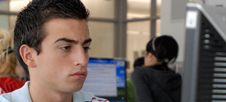 The Help Desk is available 24/7 via phone.
Des Plaines, Skokie
847.635.1965 - phone support available 24/7
Late evening and overnight service is focused on online learning support; other support requests may be deferred to the next business day.
Hours, Room 1710 Des Plaines
Monday - Friday, 8 a.m. - 6 p.m.*
*Oakton is closed Friday through Sunday during the summer, and hours may vary during breaks.