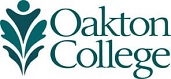 Apply as an International Student
As an international student at Oakton, you'll find a friendly, diverse community that welcomes students from around the world.
If you're not seeking an F-1 visa, you should apply using the standard application process. If you're seeking an F-1 visa, the application process has a few additional components, and you'll need to meet some extra requirements.
If you have questions along the way, please check our list of questions that international students ask, or contact us. We look forward to seeing you on campus!
If you have any questions about the application process, contact an admission counselor at admission@oakton.edu, call 847.635.1835, or use our ASK US feature.