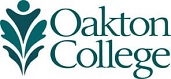 Demetrius Calhoun '17
From short order to short haul trucking
Demetrius Calhoun is the first to admit that he didn't make the best decisions as a young man. A native of the Roger's Park neighborhood on Chicago's Northside, he attended Evanston Township High School, but dropped out before graduating. He started hanging out on the streets, one thing led to another, and he found himself in trouble with the law. A felony conviction for riding in a car where drugs were present marked his life and made finding a good job a lot harder than it had to be.
He eventually found a job in a kitchen and was able to manage an honest, but low-wage living as a cook for two local restaurants for nearly eight years. However, as his son grew up and entered school, Calhoun realized that he had to be a better role model and provider for his son. Looking for better options, he decided to follow his mentor's advice and look into the Oakton Truck Driver Training CDL program.
"It was an affordable and convenient program, but I was doubtful that anyone would hire me with my record. However, before I even signed up, I met with Jesse Ivory (Oakton's program manager) who convinced me that if I did well in the program things would work out."
For residents of the Northshore, the program, which is offered in partnership with Viking Driving School, is very convenient with classrooms in Oakton's district and the driving range in Elk Grove Village.
"I appreciate that Oakton taught us the right way. As I got far enough along in the program, I met with people from Schneider Transportation and I was offered a position when I completed training. Then with Schneider, I received additional training in their S.M.A.R.T. way driving program."
Two years after graduation and Calhoun drives to Iowa once every six days, then spends the rest of his time driving in the Chicago area. This schedule allows him to be home almost every night, which is a good thing because he now has 9 month old baby girl at home as well. He earns three times what he made as a cook and expects to earn even more in the coming year. He has developed his driving skills to the point that Schneider promoted him to a training engineer position where he earns additional income teaching new drivers. His goals are to continue his education at Oakton and to own a truck so that he can run under his own authority.
"I am grateful to the Oakton program and feel blessed for getting a second chance with my life. I enjoy my work, the independence it provides, and I like helping other new drivers learn the techniques I have learned from Oakton and Schneider."