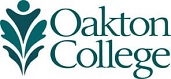 Julie Hauser '15
Pathway to success ignited by seeds of inspiration
Top students map their futures from an early age, earn straight A's, impressive scores on placement tests, and get accepted into exclusive colleges. Not always! The spark that inspired this 2015 graduate to chart her own course right into a top accounting firm in Chicago started in a classroom at Oakton.
An average student at Maine South H.S. in Park Ridge, Julie Hauser '15 selected Oakton because she didn't want to spend a lot of time at a high-priced college until she knew what she wanted to study.
She started at Oakton in 2013 as "undecided" and embraced the opportunity to explore many new subjects. "I thought psychology was very interesting and I loved my marketing class where we each invented a new product and then had to sell the idea to other students."
What she liked most were the small classes and the fact that many Oakton professors had real career experiences before teaching. "Unlike high school and other colleges, where your instructors went to school to become instructors, most at Oakton have been professionals in the fields that they teach. Real-life examples from their careers make the dry material in textbooks a lot more interesting."
Hauser buckled down and excelled at courses that required critical thinking and problem solving. She decided to take an accounting course because her mom is an accountant, and soon discovered that she too had a talent for it.
Her accounting professor, Leslie Van Wolvelear, was influential in her success. "She made it easy because she related the content to her own experiences. She helped me see that it wasn't about numbers so much as about solving complex problems for people and their businesses."
After two years at Oakton, Hauser was accepted into the Department of Accounting at the University of Illinois at Chicago and after a year there, she earned a prestigious internship at Ernst and Young LLP (EY).
A "Big 4" accounting firm like EY has their pick of the best accounting students, and upon graduation, she was offered a position in the EY auditing department. Because of the flexibility and cost saving that Oakton provided, she decided to return to her alma mater to earn the additional credits needed to sit for the CPA exam. Within a year of full-time employment, she passed all her CPA exams.
Would she recommend her Oakton experience to other students? "I already talked my younger brother into going! He starts this fall."