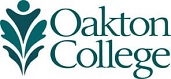 Andrea Skrzypek
Peeking Behind the Curtain
Who knew the sound of saws could spark such excitement? Andrea Skrzypek recalls the day she found "her people" at Oakton.
I remember walking down the hall near the gymnasium and hearing grating saws. I spent a number of my high school years on stage crew, and the noise reminded me of the countless hours I spent working on sets. I followed the familiar sound and discovered a crew building a set for an upcoming show. I was thrilled; I had found my people.
My goal has always been to pursue an education and career in stage management. When I came to Oakton, however, I simply planned to complete general education requirements before transferring to a four-year college or university where I would focus on my interests in the theater. I was completely unaware of Oakton's Performing Arts Center – let alone the comprehensive performing arts department that was full of opportunities for people interested in various aspects of the theater.
I was so excited when I found Oakton's stage crew and learned more about the performing arts department. I got involved immediately and my responsibilities included supervising other student employees and stage managing theater productions. I was fortunate to take classes at a reputable and affordable school, while still having the opportunity to gain work experiences that will be invaluable to my future.
After Oakton, I moved to Texas and took some time off from school to settle in to my new surroundings. I plan on majoring in stage management for theater productions at the University of Texas at Austin. Eventually I would like to work for a traveling theater company and produce shows that really make people think about life. 
Andrea Skrzypek, '11