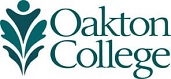 Christopher Dubé
Troublemaker turns troubleshooter
Growing up in Zimbabwe, Chris Dubé was always getting into trouble. In his role as network analyst, he now spends his time making sure systems run trouble-free.

The role Christopher Dubé plays at Oakton is one that few employees or students notice. His responsibility is to make sure that the backbone of the college's network runs trouble-free. When a student connects to Wi-Fi, an employee makes an important phone call, a professor uploads an assignment . . .  all of the connections work seamlessly so the college runs smoothly. Precisely, as everyone expects. No trouble!
However, all communications stream over the network that Dubé is responsible for managing and designing. From his control room, he can see what is happening at every network jack on both campuses. For example, if someone were to unplug one of the college's desktop computers to plug in their personal laptop, his control panel would sense it and he might pay you a quick visit. The entire system at Oakton is designed so that the Internet never goes down, viruses and malware are kept at bay, and LAN, WAN, telephony, Intranet, and Internet systems all work together. 
If accidents never happened, if people always behaved themselves with computers, and if technology never changed, then Dubé would have an easy job. But in the real world, his job is a never-ending vigil of system defense, design, upgrade, and redesign.
From his early life to his world travels, Dubé knows a little bit about the real world.
"Growing up in Harare, Zimbabwe, I was the kind of boy who was always getting into trouble. My behavior changed at about the age of 11. One day my father caught me breaking the rules, and rather than scolding me and punishing me like he normally did, he simply ignored me for about a week—like I no longer existed. That got my attention!" Dubé said that soon after that experience he began to take his school work more seriously and to take responsibility for his own discipline. The change came at an important time in his life because his father died only a few years later when he was 14. Being the oldest of five children, he had to leave school, take on more responsibility for his family and begin working to help his mother. 
Eventually, while working for a bank, he was able to return school. His dream was to become a pilot, but circumstances led him to London, England where he was able to enroll in college to become a nurse. Upon earning his R.N., his deep interest in technology led him to study for a Bachelor of Science degree in electronic image science at the University of Westminster. His curiosity with this new field led him to earn a master's degree in networks and data communication at Kingston University.  
In 2008, Dubé brought his family to the Chicago area where he and his wife are now raising their two teenage boys. Both sons are excellent students, play soccer, and enjoy Boy Scouts. His eldest is an Eagle Scout and the younger son is working toward that distinction. Their proud father is very pleased that his sons are a lot less trouble than he was as a youth.  

Christopher Dube, network analyst