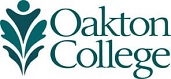 Lyttleton Callender
An open book
How does someone go from majoring in creative writing to becoming an academic advisor? Just ask Lyttleton Callender.
While I was studying creative writing at Columbia College, I served as a resident assistant for a dorm made up of students attending Columbia, Roosevelt University, DePaul University, and Robert Morris University. I enjoyed it, but I was unsure of what I wanted to do with my life until my supervisor said to me, "You know you could work in residence life full-time." After that, I became intrigued by working for a college because I found that I enjoyed being a student mentor and advocate.
Prior to Oakton, I worked as an academic advisor for an online university. I didn't see students; I only worked with them via telephone or e-mail, so there was a certain disconnect. Now that I meet face-to-face with students, it's a180-degree turn. I never know who is going to walk through my door on a given day and what their life story may be. One day I may be working with someone who is on academic probation and the next day I may be helping someone who is returning to school after a decade and doesn't know where to begin.
In my job, I have to be ready for anything. I once had a student tell me he wanted to be an "anthro-archeologist." We talked a bit more about whether he was interested in anthropology or archeology. I was glad to help him review his options in both fields.
Whatever their goals, I always recommend that students have a backup plan. It's nice to want to become a doctor, but if you don't enjoy science, you might need to explore a few alternatives.
Lyttleton Callender
Academic Advisor