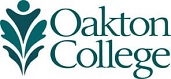 Help during COVID-19
Limited in-person services are available, by appointment, at Oakton Community College. Please read the Message from the Assistant Dean of Oakton Library to learn more about library services during the COVID-19 pandemic as well as check out the following help resources that are available online and in person, by appointment, from the library:
Online Help from a Librarian
The library will be offering curbside services for physical materials from the library. Patrons can request books from our catalog to be picked up from our library. Patrons can request our materials as well as materials from other I-Share libraries that are currently offering interlibrary loan services. Items received from other libraries will be quarantined for 5 days as a safety precaution before being made available for pick up.
Items Not Loaned at This Time
Due to quarantine restrictions, we will not be loaning the following items:
Kits
Textbook Reserves
Chargers
Oakton Community College is launching the Oakton CARES program to provide emergency assistance for students who were educationally disrupted and financially impacted by the COVID-19 pandemic in spring, summer, and/or fall 2020. If you need assistance obtaining textbooks or other course materials, visit https://www.oakton.edu/newsevents/news/alerts/COVID19/CARES.php
Interlibrary Loan
If you cannot find the item you are looking for in our catalog, e-book collections, or databases, you can request it from other libraries. Simply fill out one of the forms below. Physical items received will first be quarantined for 5 days before being made available for curbside pickup. 
Library Card/Owl ID
To apply for a digital library card/Owl ID, please fill out and submit our Library Card Request Form. Students must be registered for classes in a current or future semester to apply. Employees may also apply. 
We will send you a digital copy of your library card within 2 business days to you via email. You can show your digital card at the library to get a physical card once we reopen. If you need to have a physical card now, you can request it on the form. It will take up to 2 weeks for the physical card to be mailed to you off campus. Cards for Nursing, EMT, or PTA will be sent to the teacher to distribute in class.
Library Catalog Login
If you cannot login to our library catalog to see your account, please contact renewlib@oakton.edu.
Library Holds on Student Accounts
If you have a hold on your account because of an overdue item that you need lifted to register, please contact us at renewlib@oakton.edu.
Renew Items Checked Out
If you wish to renew any items you currently have checked out from the library, please renew it through our library catalog. If your book cannot be renewed, please contact us at renewlib@oakton.edu with the details.
Item Returns
Books can be dropped off at either campus without scheduling an appointment. Library technology returns must be returned using our curbside services. Items received will be quarantined for 5 days before they are removed from your account.

Book drops are located:
Des Plaines: just inside entrance 10 near parking lot A by the Performing Arts Center
Skokie: just inside entrance 1S in student street near the Lincoln Lot by the circle drive
Campus hours:
Monday - Friday: 7 a.m. - 9 p.m.
Saturday - Sunday: 7 a.m. - 6 p.m.
Please wear a mask and only come if you are not presenting COVID-19 symptoms. If you do not have permission to be in the building per the Return to Campus plan, please exit the building as soon as you finish placing items in the book drop.
If you wish to return items via our curbside services, please email us at renewlib@oakton.edu. We will send you an email with instructions on how to schedule a time to drop off your material.  
Questions?
Email: renewlib@oakton.edu