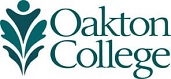 Athletics
Get in the game! At Oakton, you'll have plenty of opportunities to get involved in athletic activities. Whether you'd like to join an intercollegiate sports team, play at the intramural level, or work out on your own, it's easy to get involved. 
Intercollegiate Sports
As a member of the NJCAA and Illinois Skyway Collegiate Conference, Oakton students participate in 12 intercollegiate sports, including baseball, basketball, soccer, tennis, and golf.  
Intramurals
From table tennis to basketball, intramurals at Oakton are a great way to get involved and stay active. Intramurals are open to all students and employees of the College, and you can join as an individual or with a team. 
Fitness Center
Located at the Des Plaines campus, the center features more than 20 workout machines and an experienced staff. 
Personal Training
Make sure your workout is working for you. Oakton's personal trainers will meet with you to customize an exercise regimen that fits your individual needs.