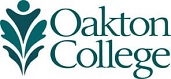 Fitness Center Credit Courses
The following one-credit-hour courses count toward graduation and grade point average. They may be taken in any order. Students may work out at any time during operating hours. Sign up at the Enrollment Center or online at my.oakton.edu.
PED 131 Physical Fitness
PED 132 Weight Training
PED 141 Physical Fitness II (No prerequisite)
PED 190 Fitness Center
Course requirements: 75 percent of the Fitness Center grade is based on participation; 100 minutes of participation per week is required during a 16-week class, 200 minutes a week is required for an eight-week class.
Fitness Center students must pre-test at one of several orientation sessions scheduled during the first week of class. Returning students must pre-test during a scheduled orientation session. Those who fail to meet this requirement are dropped from the course.
Orientation schedules are available in the Fitness Center.
Twenty-five percent of a student's grade is based on improvement and goal attainment. A required pre- and post-test consisting of five standardized fitness tests is administered to determine this portion of the grade.