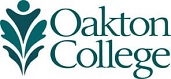 Fitness Center Membership
The following noncredit membership may be taken annually or per semester. Sign up in the Alliance for Lifelong Learning Office (Room 1420, Des Plaines).
Membership Requirements
Members must be at least 16 years old.
All members must attend a one-time, hour-long orientation.
(This session will introduce members to the concepts of physical fitness and the correct use of exercise equipment. Orientations are given on the hour.)
An Oakton ID card is required to use the Fitness Center.
(ID cards will be issued to members following orientation.)
 Appropriate gym clothing and footwear required.
(No street shoes)
FREE MEMBERSHIP: Sign up for four or six Personal Training Sessions and get a free membership.
Download the Fitness Center brochure (pdf file).